You are here
Back to top
Key specifications of DC/DC Converts in Railway Application_CTC Power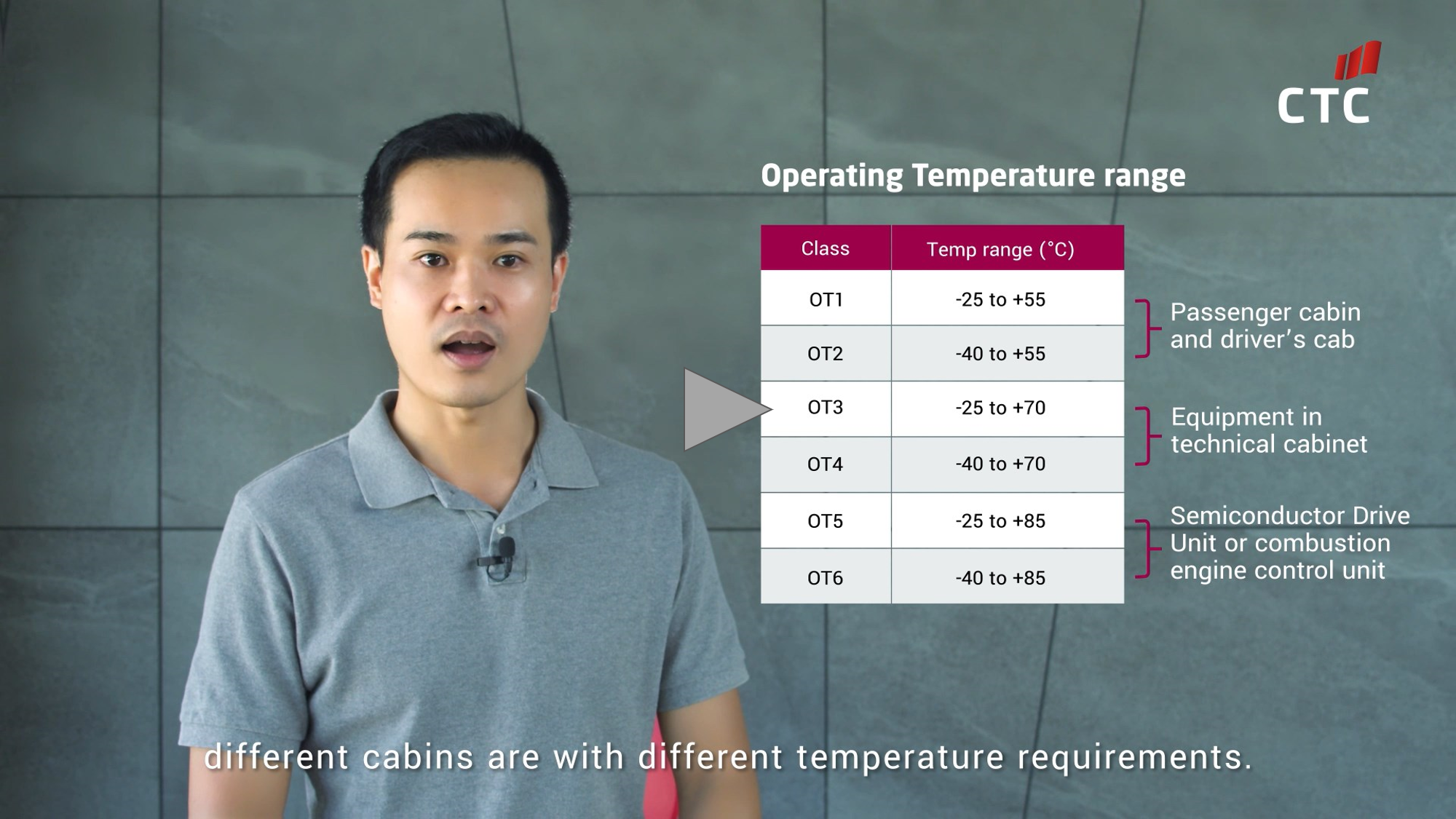 It uses converter in different parts in the train cabin, like Surveillance System, On-board computer, and Broadcasting System.
Next, we will show some key spec which we need to pay attention to railway application.
These three special requirements are from EN50155, they are Operating temperature, Variations and Interruptions of voltage supply.
First one is Operating temperature, the levels for electronic equipment are listed in the figure.
As figure shows, different cabins are with different temperature requirements.
And most of the CTC's railway converter can meet the OT4 to OT6 requirement.
The second one is Variations of voltage supply. There is a special definition for input voltage variations in EN50155.
Normally it needs wide input voltage range converter to meet the requirement, and it becomes mainstream in railway application.
And CTC already has had the 12 to 1 input range converter for many years.
The third one is, Interruptions of voltage supply.
During the transition of different power source, the electric power on the train become unstable in a short time. Such as a sudden voltage drop or a short-term power off. During this situation, the converter must remain operational.
So, it is very important to have a converter with simple method to pass the voltage interruption.
And CTC has the solution for it.
This figure is a block diagram for railway PoE device. The converter can provide isolated power to internal device. Also provide power through RJ45 connector to the end device. With wide input range converter, the device can operate in different input range, like 24, 48, 72 and 110V.
Using dc/dc converters will bring benefits to the system.
Like expanded the input voltage range, minimize total layout space and optimize thermal and EMS performance.
Next episode will show the benefit for Vbus.
Thanks for your attention, see you next time.
CTC is a professional service provider for high-end power supply modules (AC to DC Converter and DC to DC Converter) for critical applications worldwide since 30 years. Our core competence is to design and deliver products with leading technologies, competitive pricing, extremely flexible lead-time, global technical service and high-quality manufacturing (Made In Taiwan).
CTC is the only corporation certificated with ISO-9001, IATF-16949, ISO22613(IRIS), and ESD/ANSI-2020. We can 100% ensure not only the product, but also our workflow and service to match quality management system for every high-end application from the very beginning. From design to manufacturing and technical support, every single detail is operated under highest standard.