You are here
Back to top
Key Features for Choosing Gate Driver Power_Automotive Applications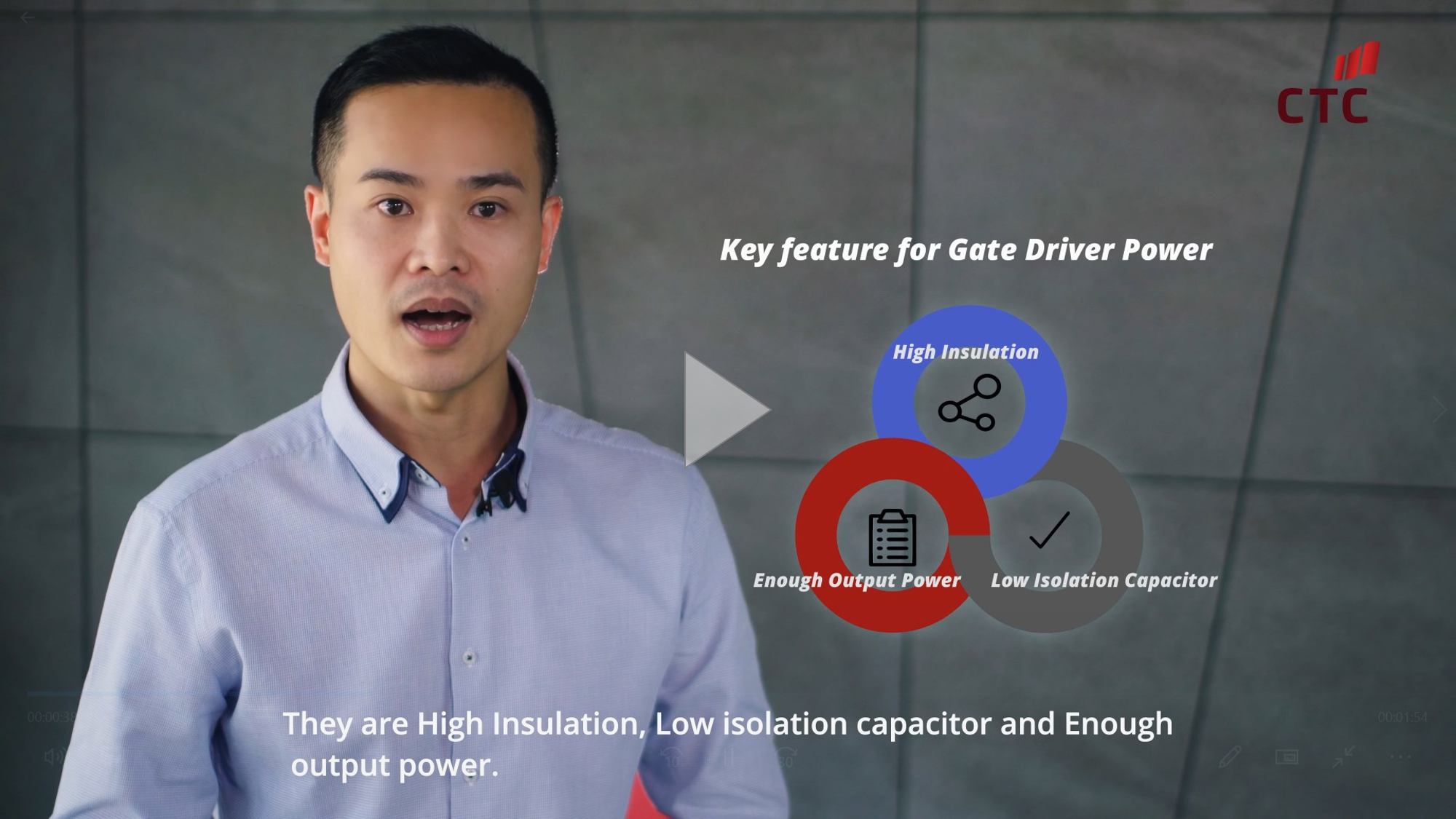 In electric vehicle applications, many devices need Gate Driver Power. Like Traction Inverter, On Board Charger, E-compressor and Thermal System. 
Following we list three key features for choosing Gate Driver Power.
They are High Insulation, Low isolation capacitor and Enough output power.
The requirement of Insulation is referred to IEC 61800-5-1.
Due to the common voltage of automotive motor drivers is within 200 to 400Vdc,
it is in the section C in the above table.
As we can see in below Table. The requirement of section C is Basic insulation, and best to have reinforce insulation.
The second one is Isolation Capacitor. In gate driver applications, converter with low Isolation Capacitor is an important feature. Higher isolation capacitor may cause voltage spikes to the gate driver. It could lead to high and low side switch short circuit, and damage the system. 
In general, below 10pF is good to used, and 3 to 6pF is excellent choice.
The third one is output power selection.
This is a simple gate driver circuit. For easy to understand, I only show the high side gate circuit. As for the power requirements of dc dc converter, it should be related to
1. Power Consumption of Gate Driver IC
2. Qgate and Drive Voltage of switch.
3. System Switching Frequency.
Here we show the example.
SiC Qgate is 28nC, and switching frequency is 1000kHz, Gate voltage is +15/-5V.
The driver IC is 2.5mA at 15V.
So, the converter output power should be over 0.6W.
And based on the derating curve, it should choose more than 1W converter.
These are all three key features for choosing Gate Driver Power.
Thanks for your attention, see you next time.
CTC is a professional service provider for high-end power supply modules (AC to DC Converter and DC to DC Converter) for critical applications worldwide since 30 years. Our core competence is to design and deliver products with leading technologies, competitive pricing, extremely flexible lead-time, global technical service and high-quality manufacturing (Made In Taiwan).
CTC is the only corporation certificated with ISO-9001, IATF-16949, ISO22613(IRIS), and ESD/ANSI-2020. We can 100% ensure not only the product, but also our workflow and service to match quality management system for every high-end application from the very beginning. From design to manufacturing and technical support, every single detail is operated under highest standard.